Backupninja allows you to coordinate system backup by dropping a few simple configuration files into/etc/backup.d/. Most programs you might use for making backups don't have their own configuration file format. Backupninja provides a centralized way to configure and schedule many different backup utilities. It allows for secure, remote, incremental filesytem backup (via rdiff-backup), compressed incremental data, backup system and hardware info, encrypted remote backups (via duplicity), safe backup of MySQL/PostgreSQL databases, subversion or trac repositories, burn CD/DVDs or create ISOs, incremental rsync with hardlinking.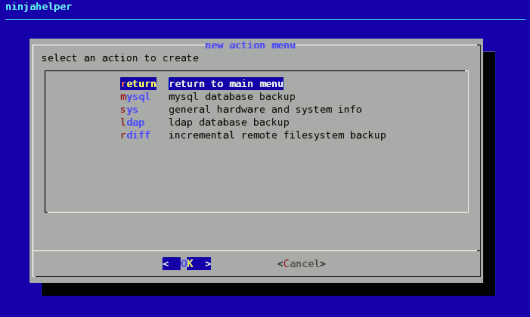 Features
Easy to read ini style configuration files.
You can drop in scripts to handle new types of backups.
Backup actions can be scheduled.
You can choose when status report emails are mailed to you (always, on warning, on error, never).
Console-based wizard (ninjahelper) makes it easy to create backup action configuration files.
Passwords are never sent via the command line to helper programs.
In order to backup a db or sql database, you cannot simply copy database files. backupninja helps you safely export the data to a format which you can backup.
Works with Linux-Vservers.
Supported Backup Actions
Get backupninja
View the ChangeLog
To install on Debian: apt-get install backupninja
Get the source: git clone git://labs.riseup.net/backupninja.git
License: GPL
Getting Started