WHAT IS MOBIONE?
Create mobile applications and webapps in just minutes – without touching a line of code
Supports iPhone and iPad App design and testing, includes iPhone and iPad emulators
Allows web developers and marketers to lead mobile initiatives without being IT experts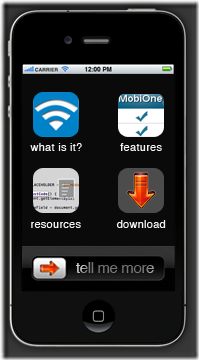 YOU OWN YOUR IPHONE OR IPAD CREATION
With MobiOne, you're in control. No fancy device-specific environments, no complicated developer languages, just easy-to-use tools that make your designs come to life in minutes. Best of all, you own the designs you create. There's no runaround on hosting solutions or holding your apps captive unless you pay a fee. MobiOne is simple: you design it, you keep it. How you use your app is your business – MobiOne is just helping you create awesome mobile apps.
YOU CAN DO IT ON WINDOWS
Yep, you hear right. Unlike some solutions, such as the iOS SDK, MobiOne doesn't require you to own a Mac, have expensive tooling or be an expert in native code languages. Use the Windows-based infrastructure you already have to build App Store-ready applications.
HOW DO WE DO IT?
MobiOne utilizes the latest advances in HTML5, JavaScript and CSS3 to design today's most advanced applications, then lets you decide if you want to generate native applications or webapps.
Coming soon: Support for Android devices.
Information