Akeeba Backup is an open-source backup component for the Joomla! CMS, quite a bit different than its competition. Its mission is simple: create a site backup that can be restored on any Joomla!-capable server. It creates a backup archive which contains all the files, a database snapshot and a restoration script. The backup and restore process is AJAX powered, designed to avoid server timeouts, even with multi-gigabyte sites! Alternatively, you can make a backup of only your database or your files.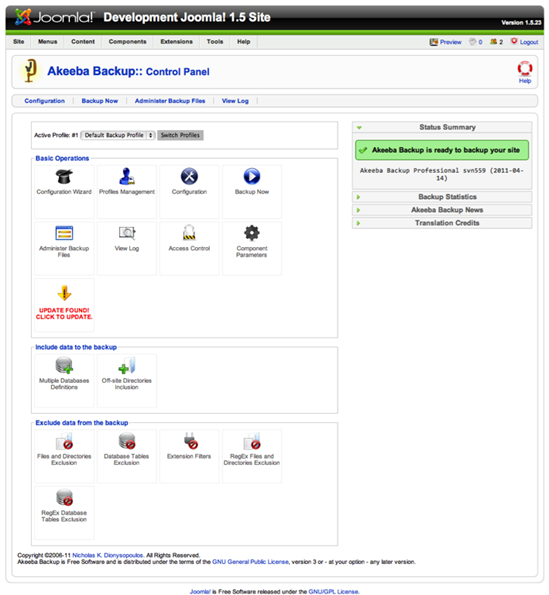 Akeeba Backup's superpowers don't stop at just backups! Our Professional version offers a complete arsenal of innovative features such as automatic System Restore Points when you're upgrading an extension, a site transfer wizard to move or copy your site between hosts and much more. We are redefining what is possible with Joomla! and we take a big pride in that!
Akeeba Backup's pedigree goes a long way. Making its first public appearance as JoomlaPack back in November 2006, nowadays it is a native Joomla! 1.5/1.6/1.7 component, downloaded over 3 million times, making it one of the most established Joomla! extensions. It is an Editor's Pick and the most favoured extension in the Joomla! Extensions Directory. It has also been awarded three prestigious J.O.S.C.A.R.s for Administrator Only Extension (2010, 2011) and Component (2011) at the J And Beyond international Joomla! conferences, making it the most decorated Joomla! component. Its lead developer was also awarded the J.O.S.C.A.R. in the Code Junkie category (2011), testifying to his dedication in producing high quality code. It's hard to believe, but such an acclaimed component actually comes free of charge with free, complete, professional documentation and an option for lightning fast, very cheap support. So, what are you waiting for? Download our Akeeba Backup Core edition for free and see what everyone is talking about!
Download