CamStudio is able to record all screen and audio activity on your computer and create industry-standard AVI video files and using its built-in SWF Producer can turn those AVIs into lean, mean, bandwidth-friendly Streaming Flash videos (SWFs)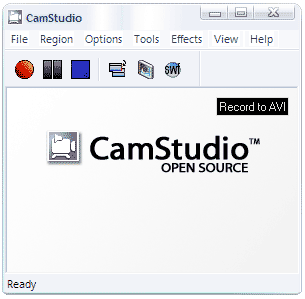 Here are just a few ways you can use this software:
You can use it to create demonstration videos for any software program
Or how about creating a set of videos answering your most frequently asked questions?
You can create video tutorials for school or college class
You can use it to record a recurring problem with your computer so you can show technical support people
You can use it to create video-based information products you can sell
You can even use it to record new tricks and techniques you discover on your favourite software program, before you forget them
"Nick, here is what I think I'll do; rather than fork out the $300.00 bucks for [CENSORED], I'll just keep using CamStudio.
"I am a self-employed consultant that works in the public safety community (cops, fire, ems, dispatch etc). What I have planned is to use CamStudio to capture on screen video for training vids.
"Thanks for a great product and your help!"
Joe Borgione
www.AlpineGeographic.com
Don't like the sound of your voice? No problem.
CamStudio can also add high-quality, anti-aliased (no jagged edges) screen captions to your recordings in seconds and with the unique Video Annotation feature you can even personalise your videos by including a webcam movie of yourself "picture-in-picture" over your desktop.
And if all that wasn't enough, CamStudio also comes with its own Lossless Codec that produces crystal clear results with a much smaller filesize compared with other more popular codecs, like Microsoft Video 1.
You have total control over the output of your video: you can choose to use custom cursors, to record the whole screen or just a section of it and can reduce or increase the quality of the recording depending on if you want smaller videos (for emailing to people, for instance) or you can have "best quality" ones for burning onto CD/DVD.
But all of these features would be worthless if CamStudio wasn't easy to use … fortunately that's not the case. CamStudio can be learned in a matter of minutes and comes with a comprehensive built-in helpfile, so if you do manage to get stuck, you can simply hit "Help" and get the answers you need.
Download