Free open source xml multiplatform editor
Serna Enterprise XML editor is a powerful and easy-to-use WYSIWYG XML application for collaborative XML editing. Serna brings to your business all the potential benefits of XML: quality content, highest XML authoring productivity, validity and consistency in terms of structure rules and business conventions, and automated multi-channel XML publishing in a seamlessly integrated environment.
An innovative WYSIWYG platform for XML-based applications, Serna is Python extensible and based on the open standards XSLT and XSL-FO.
Powered by on-the- fly XSL-driven technology, it provides a single point access to distributed documents. Serna reads XML documents and data from several XML data sources. It then blends this information into a seamless presentation, allowing novice users and non-programmers to edit in a word processor-style interface.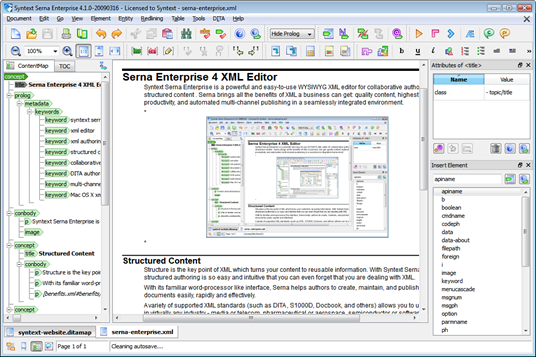 Details / Download