PowerHome2 is a home automation software package that allows you to control your home's lighting, appliances, security, and your Home Theater.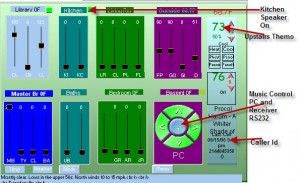 Control lights, audio, video, security, and cameras in your home
Control using your PC, web, smartphone, email, keyboard, mouse, IR, voice
Perfect for Insteon, UPB, X-10, Infrared, RS232 and more
Highly customizable – use with Elk M1, HVAC, Caller ID, Weather
No plugins needed. Unlimited licenses for your home's computers
EZ SetUp Wizard gets you up and running in Minutes!
30 Day Free Trial
Features
Fully Programmable Interface Via Your Choice Of Languages. You Can Use The Internal Macro And Formula Scripting Or Any Language Supported By Windows Script Host (For Example: VBScript, JScript, Etc.)
Internal Web Server For Remote Control And Monitoring. Supports User Defined Dynamic Content Via PSP (PowerHome Server Pages)
Voice Recognition
Text To Speech
User Definable Remote Layouts Allow For Virtually Any Keystroke Combination
Touchscreen Friendly Interface
Customizable Display Allows You To Show Floorplan Layouts And Place Controls Over Actual Photos
Insteon Control Using USB Or Serial PowerLinc V2 And The SmartHome Device Manager. Full Support For Insteon Including Software Link Discovery And Building As Well As KeypadLinc Support
UPB Control Using Serial Or USB PIMs. Complete Support For UPB Devices And Links
X-10 Control Via CM11A, CM17A Firecracker, MR26A Mouse Remote, CPU-XA/Ocelot, W800, W800RF32, PowerLinc RS-232, PowerLinc USB
Infrared Control Via CIR, Multi-CIR, RedRat2, RedRat3, CPU-XA/Ocelot, USB-UIRT, Slink-E
Digital Input, Digital Output, And Analog Input Control With The CPU-XA/Ocelot And Additional Adicon Modules
Full DI/DO And AI/AO Support For The Velleman K8000 Controller
New Controller Module Allows You To Use A Virtually Unlimited Number Of Controllers. Use Multiple X10, IR, And Other Controllers. Don't Limit Yourself To A Single Controller.
CD Jukebox Player Control With Playlists And Autoprogramming
CD Database With Freedb Support
Video Database
Macros
Triggers
Timed Events
Full Event And Web Logging
Multi-X Control Allows A Sequence Of X-10 Commands For Control (Access 256 Macros From Your Palm Pad By Pressing 2 Buttons, 64 Macros From Your Keychain Remote By Pressing 3 Buttons.)
Sunrise, Sunset, And Civil Twilight Calculations
Socket Server For Remote Control Of PowerHome From Other Applications And Machines
Windows Messaging Interface For Additional Remote Control Capabilities
Windows Script Host Interface
Built-In WAP Server For Remote Control Via An Internet Enabled Cell Phone
New EZ Setup Wizard!
Technical Overview
PowerHome Home Automation Software Is Written In Sybase PowerBuilder Version 10.5
All Code And Data Maintained In Sybase Adaptive Server Anywhere Database System.
Custom DLL's Written In Microsoft Visual C And Assembly.
Voice Recognition And Text To Speech Components Licensed From Microsoft (SAPI 4.0a).
Remote Access Server Dialup Control Licensed From SocketWrench.
System Requirements
Windows NT/2000/XP/Vista
Pentium With 128 Megs Of RAM
Unused Serial Port/S (CM11A Interface, CM17A Firecracker, MR26A Mouse Remote, RedRat2, CPU-XA/Ocelot, Slink-E, W800, W800RF32, PowerLinc RS-232, PowerLinc V2 Serial)
Unused Parallel Port/S (Velleman K8000)
Unused USB Port (RedRat3, USB-UIRT, PowerLinc USB, PowerLinc V2 USB)
Sound Card (Text To Speech And Voice Recognition)
Internet Connection (For Remote Web Access And Freedb Support)
http://www.myx10.com/Default.aspx