RouteBuddy
RouteBuddy is the only modern, advanced digital map application for Windows and Mac OS X. It doesn't matter on which platform you wish to use the application as it sports a universal toolbar and comparable features throughout.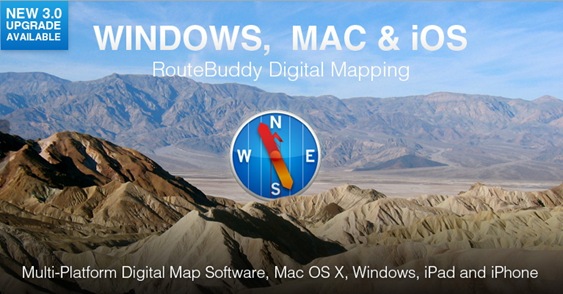 High resolution Road, Topo and Satellite maps can be viewed in the same application using our state-of-the-art animated layer technology.
Easy planning and management of geodata, Waypoints, Routes or Tracks, over any of the maps you have installed or aerial imagery.
RouteBuddy provides you plug-and-play GPS support where you can create a library of your GPS activities and safely backup all of your valuable data.
RouteBuddy Map Products
Tom Tom Road Maps for North America and Europe for Windows and Mac OS X (and iOS )
Ordnance Survey Digital Maps for Windows and Mac OS X (and iOS)
USGS Digital Topo Maps for Windows and Mac OS X (and iOS)
Get more from your RouteBuddy digital topo maps
An added bonus of buying digital Ordnance Survey and digital USGS maps from RouteBuddy it that they will also work with RouteBuddy Atlas for iPhone, iPad and iPod touch. RouteBuddy Atlas is our free app available from the iTunes store.
Experience RouteBuddy for Windows or Mac OS X for yourself
It's simple, easy and free to try out RouteBuddy on your Mac or PC. Just click our Download link above and install on your computer.
Try loading free waypoint, route or track data from the web, or connect your GPS device and safely download and back up all of your valuable data.
iPad, iPhone or iPod touch users can easily back up their geodata from RouteBuddy Atlas via the desktop by accessing the data folders within Atlas and dragging the GPX or KML files onto the desktop, or even straight into RouteBuddy for safe storage.
Please note that the software only comes with demo maps installed.
Upgrade to RouteBuddy 3.0
Click here to find out if you are eligible for a special upgrade price.