CSE HTML Validator finds problems before your visitors and customers do.
CSE HTML Validator Std/Pro includes these tools:
• HTML Validator • XHTML Validator • CSS Validator • PHP Checker• JavaScript Linter • Link Checker • Spell Checker • Accessibility Checker• Search Engine Optimization (SEO) Checker • CSS Editor • HTML Editor• XHTML Editor • And More!
CSE HTML Validator for Windows helps you eliminate website problems that cause visitors to abandon websites. It increases your productivity and saves you time and money.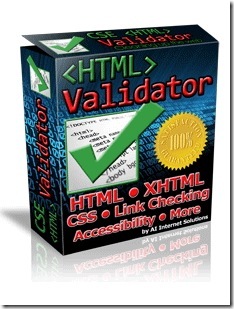 THOUSANDS of people use CSE HTML Validator, including web professionals, webmasters, corporations, government agencies, individuals, teachers, students, and non-profit organizations.
Unlike other HTML validators and checkers, CSE HTML Validator features an unusually powerful custom syntax checking engine that is specifically designed to check HTML, XHTML, CSS and more.
• PHP syntax checking requires a free 3rd party download and the standard (or higher) edition
• Includes preliminary HTML5 and CSS3 support (these specifications are not yet finalized)