A 3D Printer for the home. Express yourself in 3D. Simplify with WiFi. Starting at $1,299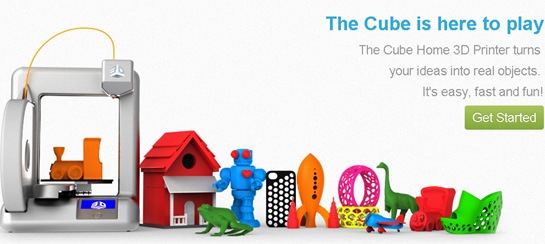 Specs
Cube 3D Printer Specs

Weight & Dimensions

Cube Dimensions:


without cartridge

10 x 10 x 13 inches
26 x 26 x 34 cm

Cube Weight:

without cartridge

9.5 lb
4.3 kg

Box Dimensions:

16 x 15 x 19 inches
41 x 38 x 48 cm

Box Weight:

19.0 lb
8.6 kg

Connectivity

Wireless:

802.11b/g with:
WPS Infrastructure
Adhoc Mode

Requirements:

Cubify Client Software
(supplied with the Cube)

Wired:

USB stick, to transfer print files
(supplied with the Cube)

Print Properties

Technology:

Plastic Jet Printing (PJP)

Print Jets:

Single Jet

Max creation size:

5.5 x 5.5 x 5.5 inches
14 x 14 x 14 cm

Material:

Tough Recyclable Plastic

Layer Thickness:

10 mil | 0.01 inches
250 microns | 0.25 mm

Supports:

Fully Automated
Easy to peel off

Cartridge:

1 Cartridge prints 13 to 14 mid-sized creations

Software

Description:

Comes with software to create .CUBE print files.

Windows Requirements:

Cubify Client runs on 32 and 64-bit Operating Systems.
• Windows XP Professional or Home Edition with Service Pack 3
• Windows 7
Windows & is required for ad-hoc WiFi Print Job submission.
If not already installed, the Cubify Client installer will automatically install the Microsoft .NET 4.0 Framework

Minimum Hardware Requirements:

A PC with these minimum requirements will be required to run the Cubify Client Software
Processor: Multi-core processor – 2GHz or faster per core
System RAM: 2 GB
Screen Resolution: 1024×768


Warranty

Description:

90 days parts and labor.
Info