WhoCallsme.gr Λάβατε μια παράξενη ή ενοχλητική κλήση, ένα ανεπιθύμητο μήνυμα SMS, ή απλά σας κάλεσε ένας αριθμός που δεν αναγνωρίζετε και θέλετε περισσότερες πληροφορίες σχετικά; Πιθανότητα δεν είστε ο μόνος. Ψάξτε στην αναζήτηση του Whocallsme.gr γι' αυτόν τον αριθμό τηλεφώνου και δείτε αναφορές και σχόλια από άλλους χρήστες.
Widget Lookup. Προσαρμόστε τώρα την αναζήτηση του Whocallsme.gr στο site σας, εντελώς ΔΩΡΕΑΝ.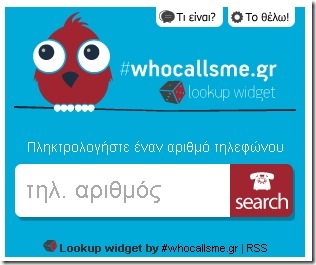 You received a strange call, spam SMS, or just called you a number that does not recognize and want more information, you're probably not alone. Look for this phone number and see the reports of others. If there are no reports yet, leave your comment to start a discussion.
More info