ppendo is a lightweight plugin to manage cloning form rows.
Appendo is less than 2000 bytes and is very easy to use.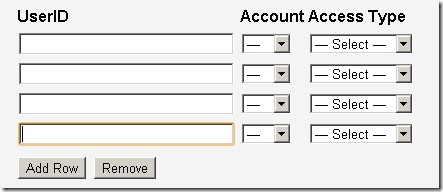 Features
Creates an interface to manage adding cloned form rows
Remove button appears when added rows can be removed
Optionally limit the number of rows that can be added
Optionally focus first form field in added row
Multiple easy-to-use attachment methods (no Javascript required)
Lightweight, less than 2K! Well-commented source
Self-contained Javascript file (no other files needed)
Can be styled by CSS rules or via jQuery properties object
Completely namespaced as jQuery.appendo
Introduction
Appendo aims to be a lightweight solution to duplicating form rows in a simple jQuery plugin format. The appendix includes some PHP example code for naming and reading rows.
Appendo also aims to be a succinct example of jQuery plugin design (see code).
Basic Usage
It's very simple to attach Appendo.
In fact, it doesn't even require any Javascript.
Load jQuery and Appendo Javascript files in your page <head>
Set up the row for duplication as the final row in a table
You may use header rows or other layout in the table above the row
Simply add class="appendo" to the table with to duplicate
If you've loaded jQuery and Appendo correctly, Appendo will automatically attach to tables withclass="appendo". It's that easy!
Demo / Download