If I had a nickel for every window management app I've used on the Mac, I'd be a rich man. With that in mind, it's no surprise that a small and relatively unknown app named Spectacle faces an uphill battle in the fight for their share of the window management market.
Will its simple interface, rich functionality, and open source code be enough to give Spectacle a place in this already crowded market? We'll go in-depth after the break.
Overview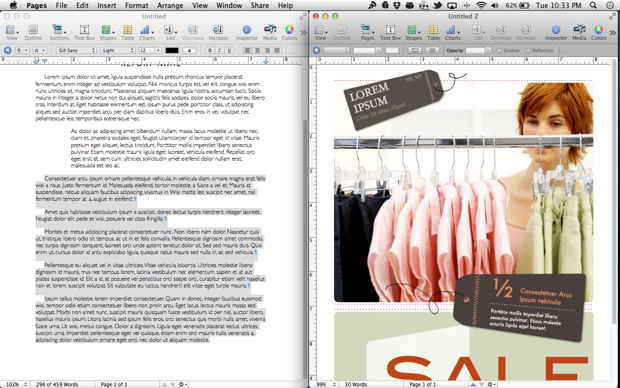 Viewing documents side-by-side with the help of Spectacle.
In the window management app world there are two distinct camps – those who use a keyboard and those who use a mouse. Spectacle falls into the former with their byline in the App Store reading "Spectacle is a simple utility that allows you to easily organize your windows without using a mouse", and that just about sums up the functionality of the app itself. The interface is extremely basic, but usable and allows you to set shortcuts for different functions as well as choose how you'd like the app to run. You'll be given the choice between running the app as a background application or in the status menu.
Whichever way you choose doesn't really matter, although I chose to have Spectacle run in the background to save room in my ever-crowded status menu. In addition the app also has a checkbox to run on startup – I'd do this, otherwise you'll have to open the app manually, which defeats much of the purpose of an app designed to make you more productive.
On that note, there's no real reason not to keep Spectacle open all the time, as a free and open source app, you'll never see any pop-ups or annoying up-sells, and it usually only takes up around 18-19mb of memory. In other words, for anyone with a computer that was made in the last 10 years, its memory usage is negligible at best.
Functionality and Presets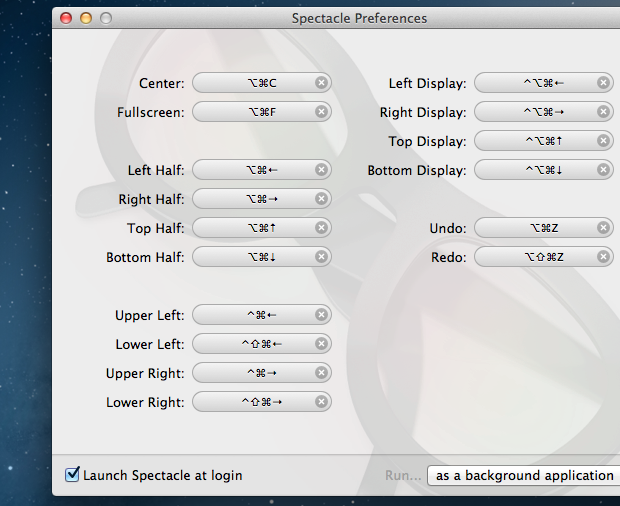 The Spectacle preferences window.
So what does that 18-19mb of memory give you in functionality? Quite a bit. Spectacle has 16 built in presets that allow you to snap your windows into a variety of positions. Below is a quick list of some of the more important presets and a quick review of their functions.
Center – this puts any app smack in the center of your screen, it doesn't do much for functionality, but I find it tidies things up nicely.
Fullscreen – this basically acts like the "maximize" button in Windows, causing an app to fill the whole screen. I always hear complaints about the omission of this feature from Mac OS X, so it's a welcome addition to Spectacle.
Left Half – this makes your application window fill the left half of the screen, similar to the snap feature in Windows 7.
Right Half – this makes you application window fill the right half of the screen, also similar to the snap feature in Windows 7.
Top Half – this allows applications to fill the top half of your screen.
Bottom – this allows applications to fill the bottom half of your screen.
As mentioned before, aside from the above presets, Spectacle includes 10 others which control everything from the basics to controlling window positions on an external monitor.
Shortcomings
While all the above presets are useful, they're not very customizable. Although you can change their keyboard shortcuts, adding new functions is currently not supported. So what does that mean for you? If you'd like to do something with Spectacle and it's not listed in the 16 presets, you're out of luck.
All things considered though, the presets included in Spectacle are pretty comprehensive, so I can't imagine many people would be left wanting for more. Aside from the lack of customizability, I can't really knock Spectacle for much more, as it's functionally almost perfect. I haven't experienced a single crash, bug, or error message since I began using the app around two months ago.
That being said, these days, many window management programs also double as app launchers or are just a bit more all-around feature rich. On its current path as a open source project, I can't really see too many new features coming to Spectacle any time soon, but who's to say someone won't fork it and turn it into something even more powerful?
Finally, since Spectacle is open source, there's no support outside of Github, and no warranty or other-such guarantee. You're basically on your own. Then again, Spectacle is only a small utility so there's not much that could go wrong to begin with. Either way, if you're wary of open source apps, you might want to look elsewhere.
Conclusion
Spectacle is awesome. Since I began using it around two months ago, I've been consistently delighted by the simple productivity increases it affords me on a daily basis. Even as someone who is admittedly not fond of keyboard shortcuts, I really can't find much to complain about with Spectacle.
If you're even so much as on the fence about switching up your window management regiment, you should download Spectacle and try it out for a bit before you spend a single penny. In the crowded world of window managers – Spectacle can hold it's own.
Download