nChronos Free is the industry's first freeware for back-in-time network analysis. It is a complete free network analysis solution especially for home office or small business users who could not afford costly network analysis solutions currently.
7×24 real-time network traffic capturing and recording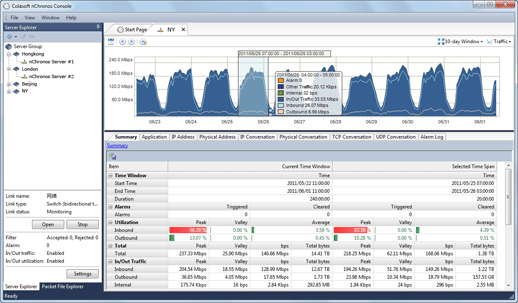 nChronos offers real-time capturing, analyzing, and storing sustained traffic at Gigabit line rates for all data flows and packets. nChronos also provides scalable extensive storage capacity varies from 1TB to unlimited storage to meet the customizable network requirements and assure the long-term traffic storage for critical links.
Retrospectively analyze historical traffic

nChronos can fast retrieve the traffic packets at any time period (real-time or retrospective), and simultaneously drill down for data-mining and full analysis. nChronos helps network users to quickly pinpoint, analyze, and resolve network and application problems, detect the attacks and threats, efficiently and in-depth analyze the network activities. By back-in-time network analysis, nChronos can efficiently solve the network interruption issues.
Benchmark and visualize trends of network performance

Based on the long-term network traffic capture and analysis data, nChronos visualizes the statistics in trend charts to help IT stuff establish baseline for the entire network, and get hold of the trend of the network operations in long-term running, identify and pinpoint network problems, acquire the evidence for decision-making on network policies, and reinforce the overall technical level for network management as well as the ability to solve network issues..
Critical links monitoring & alerting

nChronos offers visualized entire network traffic monitoring . By long-term traffic monitoring and visualizing network critical links behaviors and network traffic patterns, nChronos helps users to create a network baseline, setup online triggered alerts for network events for warning and preventing network outrages. With nChronos, there will be no critical events missed on your critical links.
In-depth network analysis for performance optimization
nChronos offers powerful ability for application-oriented analysis. The various Analysis Profiles include High-performance Analysis, Full Analysis, HTTP Analysis, high-level FTP Analysis, Email Analysis, DNS Analysis, etc., helping IT professionals to conduct in-depth network analysis with less MRRT (Mean Time to Repair) and optimize the entire network performance so as to increase enterprise network productivity.
Efficient drill-down for data-mining & index

nChronos provides efficient data retrieving and drilling down over any time period for hours, days, or weeks with accurate time stamp. It offers complete access to application level traffic flows, network statistics and data links information across all seven OSI layers level. This powerful framework can greatly reduces the time of identifying root-cause and resolving the problem.