SmoothWall Express
Express Open Source Firewall Project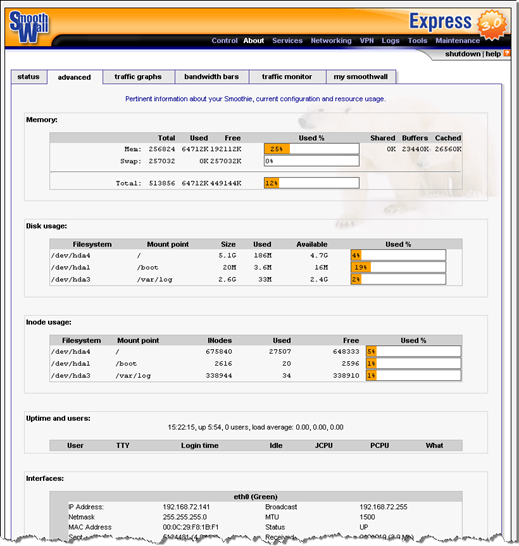 About
The SmoothWall GPL project was founded in the summer of 2000 by Lawrence Manning (Principle Code Author) and Richard Morrell (Project Manager). Their goal was to create a Linux distribution that could convert a redundant PC into a hardened internet firewall device. With help from other early contributors; John Faulty and Tom Ellils, the first SmoothWall Firewall was posted to sourceforge.net at the end of August 2000.
The project was immediately popular and grew rapidly. Within weeks, thousand of copies had been downloaded and SmoothWall was appearing regularly on magazine cover CDs in the UK and overseas. Many more developers joined the team and new versions were released almost weekly, incorporating new features based on software contributions from all round the world.
Version 0.9.9 was a major milestone for the project team, who perceive it as the point at which the project "grew up". Released in September 2001, this version incorporated a web-based multi-language GUI so the firewall could be used and administered by non-Linux people. It also included the Snort Intrusion Detection System (IDS) and support for ADSL modems and PPPoE connections.
December 2003 saw the release of SmoothWall Express 2.0 and an array of comprehensive written documentation. By June 2004, Express 2.0 had seen over 200,000 installations.
The alpha version of Express 3 (code-named Koala) was released in September 2005. Based on the Linux 2.6 kernel, this test version featured new open architecture, designed to make it easy for developers to produce their own security components. With the benefit of software contributions from around the world, a Beta version followed in 2007. This version was code named "Degu", in remembrance of one of our team's pets, who sadly died during development. (Admittedly though this was not much of a surprise given the length of time it took us to get to beta!) A current, final and stable version of Express 3.0 (code-named Sammy) is currently available on the download page.
Over the years, the project team has changed and the SmoothWall community has grown to include almost 17,000 forum members.
The goals of the project can be summed up as:
Be simple enough to be installed by home users with no knowledge of Linux
Support a wide variety of network cards, modems and other hardware
Work with many different connection methods and ISPs from across the world
Manage and configure the software using a web browser
Run efficiently on older, cheaper hardware
Develop a supportive user community
Use sponsorship from SmoothWall Limited to further these goals
The SmoothWall Open Source Project is funded and supported by SmoothWall Limited. All program code and other works are the copyright of their respective authors unless assigned and noted otherwise by the author. The Project in essence belongs to the community that contributes to it.