everyone who has ever worked in an office knows that Blind Carbon Copy (or Bcc as it is usually referred to) is how most organisations operate.  Without Bcc you could not spread rumors, embarrass your colleagues…
Where is Bcc in Microsoft Outlook 2007?
Bcc is usually not visible in the e-mail message window and you need to add it. Bcc, an abbreviation for Blind Carbon Copy, is used to send message to a recipient so that other recipients will not know the message is also sent to this recipient. This article is telling you how to find Bcc in Microsoft Outlook 2007 installed Classic Menu software or not.
In the message window, on Menus tab, click View menu on the toolbar, the View drop-down menu will appear and you can see Show Bcc command there. Click Show Bcc, it will add a Bcc button below the Cc button. And click Show Bcc again, the Bcc button will disappear.
See it below: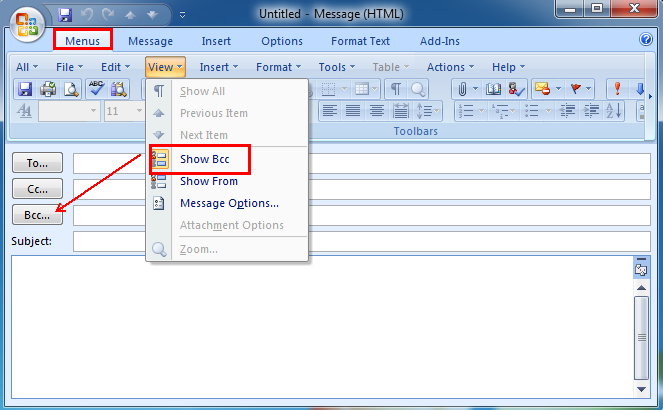 ---
The Bcc will not show by default in the message window with the To button and Cc button in Microsoft Outlook 2007, and you need to find the Show Bcc if you would like to display Bcc in an obvious place.
In Microsoft Outlook 2007, without classic style interface, navigate to Options tab, in the Fields group at the left corner of the ribbon, you can see Show Bcc next to Show From. Of course, you can click Show Bcc to display or hide Bcc button below Cc button.
See it below: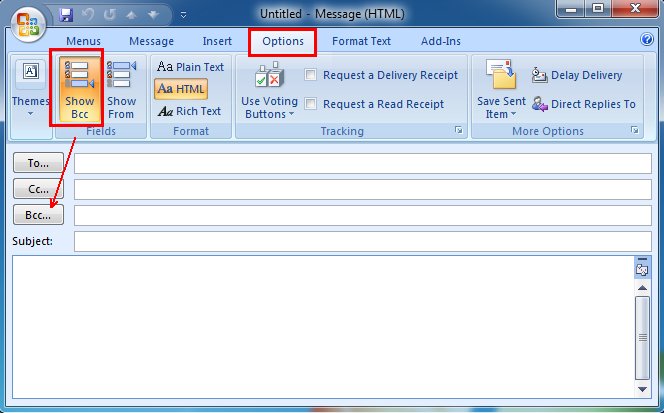 Source