Perfect Photo Suite 6, the dramatic new version of onOne Software's award winning product suite offers the best new tools for solving the most common problems faced by photographers today. This major upgrade introduces completely new products Perfect Portrait and Perfect Effects, Perfect Mask, the next generation of Mask Pro, Perfect Layers, in addition to favorites Perfect Resize, FocalPoint and PhotoFrame. And now, you can move effortlessly between applications, for a smoother and faster workflow.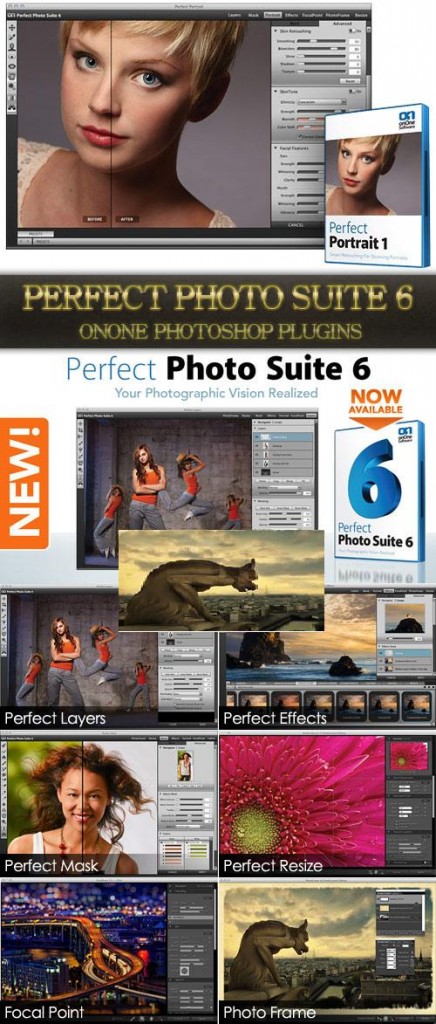 Perfect Portrait
 is a completely new product that offers the latest innovations in portrait retouching for photographers. You can now focus on the art of retouching and portrait creation because the most time consuming tasks have been automated in Perfect Portrait.
Perfect Layers allows you to combine photos for endless creative options. With Perfect Layers you can create and edit multi-layered files directly from Lightroom and Aperture, or even use it as a standalone application. All Perfect Layers files can be edited in Photoshop later giving you complete flexibility in your workflow.
Perfect Effects builds on the popularity of PhotoTools to give you an even faster and more powerful way to create images with impact. Perfect Effects 3 includes a complete library of professional photographic effects that can be previewed live, full screen, on an image before being applied. Perfect Effects 3 now includes blending options that provide even more control over how effects are combined and applied.
Perfect Mask 5 is the next generation of Mask Pro, the leading software for background replacement. Perfect Mask takes the core strengths of Mask Pro to another level, by automating many common masking tasks with incredible accuracy.
Perfect Resize 7 (powered by Genuine Fractals) is the industry standard for image resizing. It is renowned across the photographic and printing industries for its ability to increase image size well over 1000% without the loss of sharpness or detail that you would normally expect. The patented, fractal based interpolation algorithms works like nothing else and the results speak for themselves.
FocalPoint 2 – create realistic selective focus, depth-of-field and vignette effects that tell your viewers right where to look. With the intuitive FocusBug controller it is just like using a tilt-shift or selective focus lens right inside of Adobe Photoshop. Set your area of focus and then select a lens to simulate or create your own by controlling the amount and kind of blur, even in 3D. With the new FocusBrush tool you can paint sharpness or blur right where you want it. Finish things off with an elegant vignette. It has never been easier or faster to focus your viewer's eye and minimize distractions.
PhotoFrame – add the perfect finishing touch to your images with PhotoFrame 4.6. It features hundreds of design elements like film edges, borders, textures, backgrounds and adornments. It even has complete layouts where you just drop your image in and you are done. It's the perfect way to add a realistic darkroom touch with a film edge or to create beautiful album or scrapbook pages.