Your music and TV shows. Wherever you want them.
You never know when you'll suddenly be in the mood to listen to a favorite song or rewatch that hilarious sitcom episode. With iCloud, you can have iTunes automatically download new music purchases to all your devices the moment you tap Buy. You can also access past music and TV show purchases from any of your devices — wirelessly and without syncing.1
Learn more about the iTunes app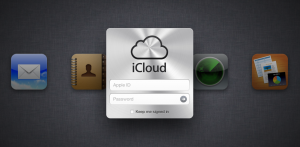 Snap. And it's everywhere.
With Photo Stream, you can take a photo on one iOS device and it automatically appears on all your other devices, including your Mac or PC. Import new pictures to your computer from a digital camera, and iCloud sends copies over Wi-Fi to your iPhone, iPad, and iPod touch. You can even view recent photos on your big-screen TV via Apple TV. There's no syncing, no email attachments, no file transfers. Your pictures are just there — on whichever device you happen to have handy.
Learn more about Camera   Learn more about Photos
iTunes Match
If you want the benefits of iTunes in the Cloud for music you haven't purchased from iTunes, iTunes Match is the perfect solution. It lets you store your entire collection, including music you've imported from CDs or purchased somewhere other than iTunes. For just $24.99 a year.2
Learn more about iTunes Match
Documents in the Cloud
Start here. Finish there.
You can create amazing documents and presentations on your iPhone, iPad, and iPod touch. And now with iCloud, you can keep your work up to date across all your iOS devices. You don't have to save your work or transfer any files. Your documents — with all your latest edits — automatically appear everywhere. iCloud is already built into Apple iOS apps like Keynote, Pages, and Numbers. It can also work with other iCloud-enabled apps. So you can do things like create a spreadsheet on your iPad and make edits to it on your iPhone. Or start sketching on your iPod touch and add the finishing touches on your iPad at home.
Login