Presenting virtual 360° images in FSI Viewer
In addition to providing 2D zooming you can use FSI Viewer to let your visitors view products from all sides. All you need is multiple photos of an object from different viewing angles. Taking photos is not only more cost efficient compared to 3D modeling – as a result you can actually view the real object rather than a simplified model. Being able to zoom to any detail on all sides of a product is almost like holding the product in your hands – a huge improvement for on-line retailers and manufacturer websites.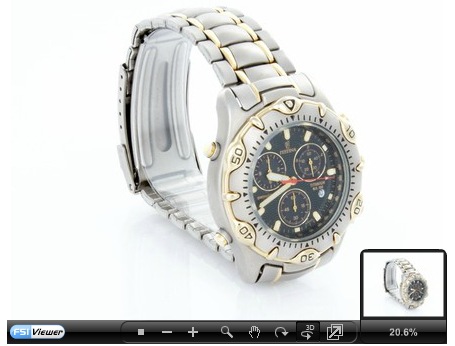 Think of a TV: no need to call a hotline to request available connection options – just rotate the device to its back panel and have a look.
For professional quality photos and automation solutions to take the required photos we recommend the photo robotic equipment of our Czech partner Improtech GmbH. Improtech develops and manufactures turn tables, robotic arms and other photo accessories to take images for product spins within minutes.
Images © virtuall.cz
Object Spins
FSI Viewer enables internet users to magnify image sections and view objects from different viewing angles or in different states, requiring low bandwidth only. This makes product presentations more haptical and appealing.
FSI Viewer displaying 360 spins works exactly like with 2D zooms – just with the additional option of spinning the object. Therefore you can zoom in to all details from all viewing angles and the required image data will be streamed on demand.
360 spins can either be published from a single source image containing all viewing angles, or from multiple images, each for one viewing angle. The more viewing angles you provide for an object the smoother the rotation will appear.
Requirements
Take high resolution photos of different viewing angles of the same object (minimum 12 pieces/angles).
The more viewing angles you provide the smoother the rotation will appear.
Upload the photos on a Image Server
Publish with FSI Viewer
FSI Server Non-ASP Editions
The table to the right covers single server licenses of FSI Server on a per customer basis.
Basic Edition
Standard Edition
Enterprise Edition
Max. Images
1,000
5,000
unlimited
Plug-in Bundle
optional
optional
included
Order ID
FS5-B
FS5-S
FS5-E
Net Price
€ 1,939.00
€ 5,169.00
€ 8,889.00
incl. 19% VAT*
€ 2,307.41
€ 6,151.11
€ 10,577.91
*VAT does not apply to companies located outside Germany