Open Video Player (OVP) is an initiative encompassing the use of open standards, best practices, and established development methodologies in the development of media player applications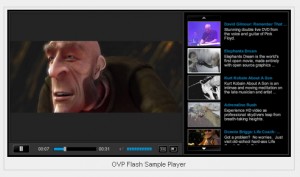 About OpenVideoPlayer
Welcome!
Open Video Player (OVP) is an initiative encompassing the use of open standards, best practices, and established development methodologies in the development of media player applications.  Currently this project provides a code base that can be used to solve common problems as part of building advanced, scalable, and robust web-based media player applications in Flash and Silverlight.
OVP is developed and maintained by a core team of dedicated volunteers.  OVP is distributed for free and "as-is" on SourceForge under a standard BSD license.
Simply put, our goal is to bring transparency to the development of compelling engaging media playback experiences and encourage the proliferation of online video through a community effort, leveraging best practices and open standards where possible.
We welcome your feedback, contributions, and ideas on ways to achieve this ongoing goal through this initiative.
– The OVP Team
To learn more about OVP and this site, please visit "Get Started" in the "Home" section of this site, or click here.
Source