Tweet Automatically
Stay connected to your followers by automatically (or selectively) updating your Twitter accounts when you publish new items.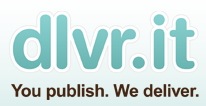 Real-Time Engagement Stats
Know where your content gets the most attention. How does your content resonate with your Twitter audience vs. your Facebook friends?Learn more »
Publish to the Top Social Networks
Auto-publish your content to dozens of social networks including Twitter, Facebook, LinkedIn, Google Buzz, MySpace, Status.net and more.
We're bit.ly friendly
Already using bit.ly to shorten your links? No problem. dlvr.it makes it easy to connect your bit.ly or bit.ly pro account.Learn more »
Stay Alert
dlvr.it automatically notifies you of problems with your feeds or if we have issues posting to your social networks.Learn more »
Incredibly Fast Updates
dlvr.it moves your content into the fast lane. We check for item updates every 15 minutes. And if your feed is PuSH enabled, you'll enjoy real-time distribution.Learn more »
Timing is Everything
dlvr.it makes it easy for you to post on your own schedule. Tell us what days and times you want us to check for new updates, and we'll deliver your content right on time.Learn more »
Plug In Any Analytics
We'll hook up with any analytics system, including Google Analytics and Omniture. We're easy. Learn how to quickly set up Google Analytics.
Know Your Audience
dlvr.it makes it easy for you to measure and track your friends and followers across your social networks. We'll let you know just how popular you are!Learn more »
Unlimited RSS Feeds
Distribute an unlimited number of RSS/Atom feeds to your social networks.
The Most Powerful Social Syndication Tool Anywhere
dlvr.it is the most powerful social syndication tool ever made. Deliver your content precisely where it needs to go, when it needs to get there.
Perfect Your Posts
Use dlvr.it's powerful find and replace/remove text tool to fine-tune the wording of your posts. We'll automatically scan each post for your specified text and replace or remove it based on your rules.Learn more »
Add HashTags. #Automatically
dlvr.it can automatically add contextually relevant, search-friendly hashtags to every tweet. We'll turn your item's category tags into hashtags and include in every post.Learn more »
Curate Content Effortlessly
Use dlvr.it to easily re-publish and link to your favorite articles, photos and other media across your social networks.Learn More »
Flexible API
dlvr.it's API makes it easy for developers to tap into the power of dlvr.it's social syndication platform.
FeedBurner Compatible
We make it easy to distribute and track your FeedBurner-powered feed content across the social web.
Personalize Your Short Links
Customize your short links with your own branded domain.Learn more »
Customize Your Facebook Posts
dlvr.it makes it easy to customize the look/feel of your Facebook posts. Share a Link? Choose your own thumbnail? Select your privacy settings? No problem.Learn more »
Intelligently Route Your Content
Target content to your social networks based on keywords, author, tags and more. Use negative filters to even more precisely route your content.Learn more »
We Love to Help
Can't find the answer you are looking for? Let us know via our help desk, community forum or twitter. We're here to help and love hearing from you.
Content Distribution Simplified
dlvr.it makes it simple to build and manage even the most complex content routes. Effortlessly move content exactly where you want it to go.