Most of you have most probably heard of Experts-Exchange. It's a website which allows you to ask questions to "experts", somewhat akin to a Yahoo Answers on steroids.
Anyway, checking my daily visited sites, I found an article that found a backdoor signup link for an account, albeit a limited account. I do not know what does "limited" in this case mean, maybe it's the number of question points given to you? 
Using the limited account I created, I was able to view solutions without the nagging "Register to view all solutions" sign. 
If you're interested, than go to this relatively unknown (soon to be well-known) free signup link
Or why not just sign up at Experts-Exchange Plus for free?
Source: Megaleecher
EDIT: Lol, I typoed in the thread title. More like I added "a" at the wrong place.
EDIT2: Lol again, just noticed that I can change the thread title by myself. Anyway, thanks Odie (I'm assuming it's you since you're the only mod online now).

The best way to get full-access to site with the ability to ask questions from experts is to signup for an Experts-Exchange account, but using the Signup link provided on the website requires credit-card to purchase the premium membership as shown below.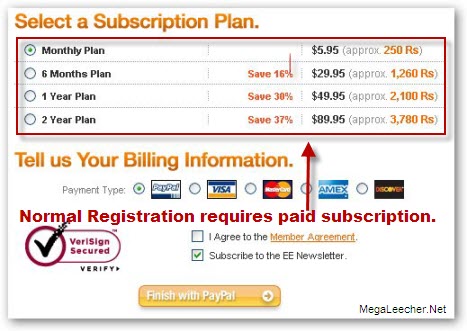 However, there is a pretty unknown backdoor signup link allowing you to signup for free as shown below.
UPDATE : The hack is now getting blocked by Experts-Exchange for Indian (and probably other non-english countries) visitors, to get around this limitation simply use a proxy solution.